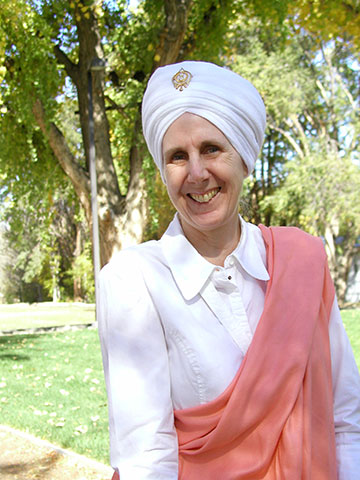 April 25, 1956 – September 19, 2019
Dharamatma Kaur Khalsa died of cancer peacefully at home, at the age of 63. She was a devoted student of Yogi Bhajan and lived an exemplary life as a Sikh. In the 1990s Dharamatma Kaur taught Kundalini Yoga to those living with and dying of AIDS. After moving to Espanola, she worked at Akal Security. She loved her many friends, going to the opera, and watching birds feast from her feeders.
If you would like a copy of her article "Dying with Grace and Forethought", click here to download >
Dharamatma
By Ek Ong Kaar Kaur
One of my best friends in the whole wide world left the planet yesterday (Sept. 19th). Her name was Dharmatma Kaur. Dharmatma means "Soul of the Dharma" – and to me, that it what she was.
When I moved to the 3HO Mother Ashram in Espanola over 20 years ago, she was one of the first people who befriended me. We both had spent time in the far East (me in China, her in Taiwan) and our ability to chatter a bit with each other in Chinese was our first bond. We both had a sensitivity about China, and wondered what kind of past life we may have shared together in that place. We had our ritual over the years to get together for good Chinese tea. We would drink our tea and talk for hours.
Dharmatma Kaur was a really smart, sharp, penetrating woman. She had a keen sense of people, of politics, and of relationships. She worked in Washington DC for a while, and was one of the first yoga teachers out there teaching Kundalini Yoga to the AIDS population, serving the transition of many souls from this world to the next. Eventually, though, that experience got to be too overwhelming for her. She was an incredibly sensitive, sensory soul. Midwifing students into the Etheric Realms stretched her too much. So she withdrew from teaching altogether.
When she moved to the Mother Ashram, she served in other ways. Dharmatma Kaur had a deep sensitivity towards the Indian culture, and the Siri Singh Sahib would call on her to be a sevadar when dignitaries such as Professor Manjit Singh, Jethedar of Keshghar Sahib, came to visit. She also had a long-standing friendship with Dr. Balkar Singh, (currently the Director of the World Punjabi Centre), who spent some years in residence in Espanola teaching Gurmukhi and Punjabi Language and Culture. I remember with great affection the times that Dharmatma Kaur, Dr Balkar Singh and I spent together – having lunch or drinking tea. Talking about Gurbani, the state of Sikhs in the world, or just silly things and laughing.
What I will remember the most about Dharmatma Kaur was her laughter. No matter how much she was struggling or how much pain she felt in her own life, she always could find a genuine connection with something to laugh about.
When the Siri Singh Sahib worked with me on translating Japji Sahib into English, and supported me to focus on translating Siri Guru Granth Sahib in my life, Dharmatma Kaur became a comrade in arms. She had such incredible love for the Guru. She listened to a continuous Akhand Path in her home for years and years. And she had a very sophisticated sense of the Raagas. Not as a musician, rather from a rhythmic poetic perspective. She could discuss the shifts from one Raag to the other, and what the "impact" of each of those Raagas felt like to her. It was always incredible for me to sit and get into deep conversations with her about the architecture of the Siri Guru Granth Sahib, and the nature of Gurbani. She had this intuitive connection with Guru, like a connection with the Heart of Creation. What she had gleaned about Gurbani and the Ragas from listening to the Akhand Path was incredible.
We would discuss these subjects at length over dinner or tea, at her house or in mine. And she would also share her thoughts in classes at my house on Gurbani. Other than that, I believe she mostly kept her wisdom within and with her circle of friends – nurturing her connection to the Guru. Not wanting to assume the space of a teacher in the sangat. Instead, in the community, she worked at Akal Security, went to Gurdwara and participated where she felt she could.
Dharmatma Kaur had a deep mystical connection with Mother Nature. Her relationships with Mother Nature and Gurbani were intricately linked for her. Another one of our favorite things we would do together is look for plants for our gardens in the spring. Her birthday was at the end of April and mine at the beginning of May. Sometimes, we would head to our favorite plant stores in Santa Fe and buy each other little starter plants for our gardens as birthday presents.
I am not terribly good about birthdays. I wish I had remembered hers more often throughout the years.
Dharmatma Kaur was a staunch and loyal friend. She had a deep neutrality and a great "bs" detector. Like many women in our generation, she was adrift among the changing social norms. The traditions of the housewife were disappearing. Women had to make our way in the world. Yet – there were also a lot of challenges with being single and dependent on whatever work one could find to make a living. I am very grateful that she became an employee at Akal Security and I feel profound appreciation for the way that Akal looked out for her after she received the cancer diagnosis.
Truly, in the absence of husband and family, the company becomes a husband and the community becomes a family. And I am grateful that her last months were held in grace.
When she told me she was dying, I thought that God was being kind to her in making such a clear road out. There wasn't much back and forth once the diagnosis became clear. There was really only one path to travel. I had a chance to visit with her a couple times during the spring and summer. We said our goodbyes and I told her how much I was going to miss her advice and her perspective on things. That's the hard part for me – there has been so much goodness and so much sweetness in so many relationships within the sangat. Those slices of heaven on earth. It's difficult to admit – this too shall pass. Nothing lasts forever. And I won't get to see her again in her rocking chair, with a cup of tea, talking about all the things we used to talk about. Yet I have to trust that her Spirit has paid its dues in this life and she is on a Good Road in the Etheric Realms.
And who knows – I may get to see her again beyond form In Gurus' grace.
Good bye my dear friend. Love you forever. Thanks for all the tea and talk and laughs and real life that we went through these last 20 years.
God speed. Akaal. Akaal. Akaal.