February 1, 1955 – October 30, 2018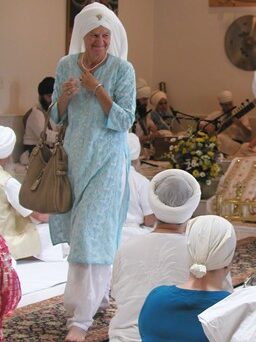 by SS Nam Kaur Khalsa, Santa Barbara, CA

Our dear sister, Varnjeet Kaur Khalsa, took her last breath and returned Home on October 30, 2018. She was best known for her love of life, her vibrant spirit, and her sweet smiles and laughter. Varnjeet's depth of devotion to the Sikh lifestyle was unwavering. She loved attending Gurdwara, Solstice, the Siri Singh Sahib's classes and doing White Tantric Yoga with her husband Gurulal Singh. Varnjeet means 'the supreme embodiment of divine victory.' Her nickname was VJ, and after she was diagnosed with pancreatic cancer I told her it stood for Victory & Joy.
Varnjeet Kaur manifested healing around her through her kindness and compassion. She reached out to help those in need. Adopting a neighbor's puppy who was doomed to life on a chain, is just one example of her big heart. But one dog wasn't enough— Varnjeet was inspired to do more. She became Chairwoman of Chain-Free Santa Fe, and helped pass a law making it illegal to chain dogs in Santa Fe County. Varnjeet was also a generous supporter of Food4kids, which provides backpacks of food for needy New Mexican schoolchildren.
Varnjeet Kaur had a strong executive mind. She studied Business Management at the University of Southern California and was co-founder of PuriThrive, dedicated to creating herbal formulations for optimal health. She served on the Board of Directors of 3HO Colorado and as President of HGRD Corp in Espanola. Varnjeet also lent her expertise to the mission of SuperHealth.
Varnjeet Kaur was a beloved member of the House of Guru Ram Das sangat. For two weeks before her passing the community gathered nightly to chant to Guru Ram Das after she developed an acute respiratory illness. Many miracles took place for her and her loved ones during this time. At Varnjeet's memorial Gurdwara the energy was so high and the kirtan was sublime. It was wonderful to come together and celebrate the beautiful soul we knew and loved.
VJ is survived by her husband Gurulal Singh, their son Sat Charn Singh, daughters Sis and Guru Deva Kaur, son-in-law Sat Bir Singh, twin grandsons, and her sister Tej Kaur.